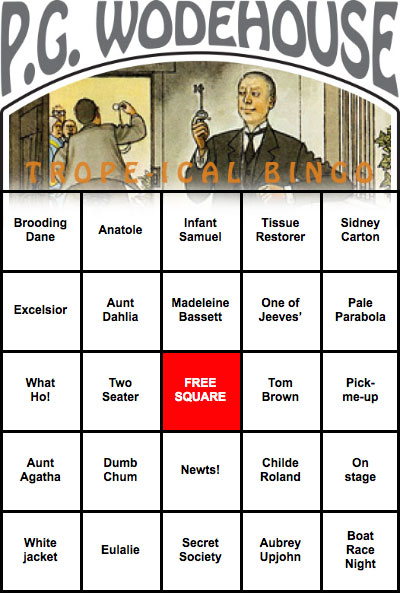 Wodehouse Bingo is a simple game and if you know Persian Monarchs, it's nothing like that but rest assured you already have the mental capacity to grasp it. It has a number of variations it's true, but from someone like you, whose head bulges out the back and whose breath reeks of fish, it should be a simple matter.
Firstly, as a discussion aid
To use as a discussion aid, simply print out a bingo card (or cards if that is your desire) and keep it beside your chair or on your nightstand as you read the book to be discussed. (This is undeniably the least interesting variant of the game. See the drinking game as a more enjoyable alternative.) Mark or indicate with whatever pen, pencil or other writing device you have handy those tropes that both appear on your card (or cards, because this stuff really does grow on trees) … and this is the nub or the gist of the matter … and in the story or novel you're reading. Of course, you might also wish to write down a few notes or at the very least the page number on which this trope appears. If you're reading the book on an electronic reading device, I'm afraid you're out of luck and it serves you right.
Secondly, as a timed game
To play as a timed game, distribute to the players a card (or cards) face down. At a given signal ("Tally ho!" might be appropriate), the players turn over their card (or cards) and mark or indicate as many boxes containing tropes that actually appear in the book under discussion. Play ends after an agreed upon time or when the first person cries "Bingo Little!", indicating that they have marked a row, column or diagonal of five boxes.
Failure is an option
The danger to the second variant is that it might end with no one winning. In that eventuality, it might be necessary to employ the third variant as a means to winning the game. Of course, one could always play Persian Monarchs or its variant, Blind Hookey to decide the outcome, but that strategy sometimes ends in acrimony.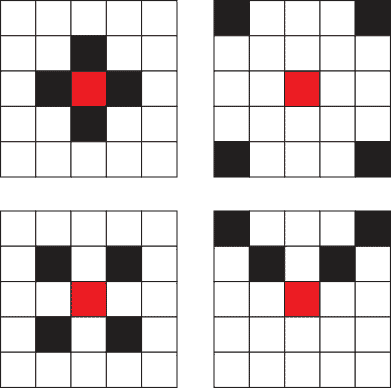 UPDATE: To make it easier to win, each group could decide on additional patterns that would allow players to win. Or, in the event of no one winning, even when using the third variant, the winner could be decided by calling out the tropes without the necessity of the trope being present in the story or novel.
Thirdly as a traditional bingo game
This third variant is more like a traditional bingo game. You will need to choose a caller, preferably someone with a good voice reminiscent of one the keener members of the Quorn and Pytchley, who will read from the master list of tropes. Players will follow along and mark or indicate those boxes on their card (or cards) that contain the trope just announced, but only, and this cannot be stressed too strongly (see Penalty), only if that trope also appears in the story or novel being discussed. As before, play ends when someone shouts "Bingo!" or "Eulalie!" or whatever is the agreed upon term that indicates five boxes have been marked, either in a row, column or diagonally.
Penalty
It is an awful thing to realize, but not everyone plays according to Hoyle. Some might be tempted to mark a trope even though it is NOT present in the story or novel being discussed. One would hope most occasions when this occurs are simply accidents, but darker deeds are possible. Any groups playing Wodehouse Trope-ical Bingo should have some agreed upon penalties to keep this sort of thing in check. One might suggest, if playing multiple cards, that any improperly marked card be disqualified. Some groups, however, may wish for stronger measures. One shudders at this penalty, that the guilty party be forced to stand and declare in a loud voice that the stars are God's daisy chain and that every time a faery blows its wee nose, a baby is born. Strong stuff admittedly, but in the spirit of good sportsmanship and all that rot, sometimes hard choices must be made.
Fourthly, as a drinking game
Playing Wodehouse Trope-ical Bingo as a drinking game should only be done in the safety of one's home, where there is no choice of crashing your two-seater into an inconveniently placed tree. Of course, one could follow the model of Gussie Fink-Nottle and only drink orange juice, but that does not seem the done thing. In this version of the game, you take an alcoholic beverage whenever you encounter a trope in the book that also appears on your card (or cards, thank you very much, I will have another card). For instance, I take a drink while reading The Code of the Woosters if the card I'm holding has the trope "policeman's helment." In this version … no, I said that already. Oh, I remember … every time … and this is the stub or the grist of the thing …  every time that trope is mentioned, you take another drink, thank you, I will have another. Of course, in this version … there I've done it again … in this version of the game, it would be prudent to have one of Jeeveses' pick-me-up early tomorrow morning because I have to see a man about a dog.
Click here to print out one of the card thingummies …
PS If printing the cards, landscape is generally best when hiding the descriptions (2-up mode). It may be necessary to print portrait when displaying the descriptions if there's a lot of poetry.