Austen at Altitude/Sense and Sensibility Musical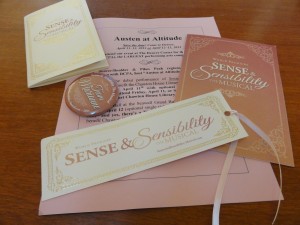 Austen at Altitude, the conference being planned by both the Pike Peak and the Denver-Boulder JASNA regions, gets more real every day. At the Austen birthday tea (celebrated at Castle Marne in Denver Dec. 16), my regional coordinator, Rae Wiseman, updated us pricing, speakers and gave us some tschotskes, which I thought I should share here.
I plan to attend the opening performance of Sense and Sensibility The Musical, take the backstage tour and also attend the reception on Thursday, April 11. I'll also attend the conference on April 13, but I'm unsure whether I can attend the Regency Ball April 12. Proceeds from these events support Chawton House and JASNA.
The opening keynote will be delivered by Claudia Johnson, Dr. Joan Ray (past JASNA president and member of the Pikes Peak region) will moderate a roundtable with members of the musical; after lunch, Sandy Lerner of Chawton House will speak and we'll close with Susan Greenfield who writes The Jane Austen Weekly at the Huffington Post.
For more information, including an order form, click the following link: Austen at Altitude Flier & Order Form
The musical will run from April 5 to May 26 in The Stage Theatre at the Denver Center for the Performing Arts.