Taking the 2013 P&P Bicentenary Challenge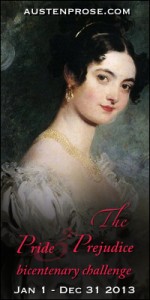 Laurel Ann Natress at AustenProse.com has suggested a Pride & Prejudice challenge to mark the bicentenary of Jane Austen's second published and most well-know book.
From AustenProse:
Time-line: The Pride and Prejudice Bicentenary Challenge 2013 runs January 1, through December 31, 2013.
Levels of participation: Neophyte: 1 – 4 selections, Disciple: 5 – 8 selections, Aficionada: 9 – 12 selections.
Enrollment: Sign up's are open until July 1, 2013. First, select your level of participation.  Second, copy the Pride and Prejudice Bicentenary Challenge 2013 graphic and include it in your blog post detailing the novels or movies that you commit to reading and watching in 2013. Third, leave a comment linking back to your blog post in the comments of this announcement post. If you do not have a blog you can still participate. Just leave your commitment to the challenge in the comments below.
I first plan to listen to the Librivox dramatic reading, after having enjoyed the Mansfield Park reading so much. And I've already watched the 2005 P&P movie and the 2008 Lost in Austen miniseries this month, so I think I should at least match the neophyte level.