DWNP Holmes birthday celebration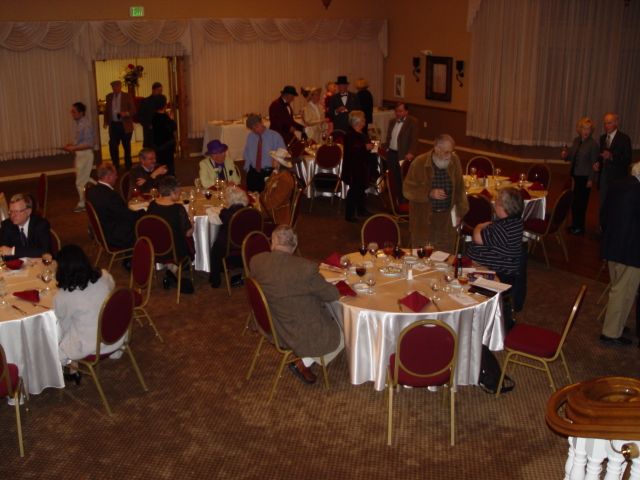 It was a little late to celebrate the Great Detective's birthday, but let's face it, Jan. 6 is a dubious date at best to honor Sherlock Holmes. So this year, Doctor Watson's Neglected Patients celebrated last night (Jan. 27), with dinner, toasts, a fiendish quiz, a silent auction and a video at Stonebrook Manor Events Center.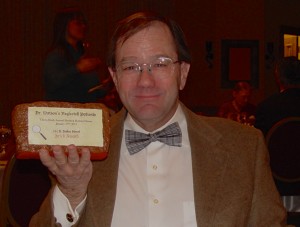 About 40 people attended the dinner with the requisite toasts to the Queen, Watson, Doyle and Holmes, after dining on chicken breast and salmon and cheesecake for dessert. Mark Langston, as he's done twice before, won the coveted Brick Trivia award for answering correctly a staggering 13 out of 20 questions on the quiz (appropriated from Alexian Gregory, a Baker Street Irregular who offered the Canonical Presidents Quiz at the BSI Gaslight Gala in New York City this year).
Participants also watched Sherlock Holmes: The Great Detective (or An Elementary Education), which was shown on the Biography Channel. David Burke, whom we know as Jeremy Brett's first Watson, appears as Watson in the documentary to explain Holmes' enduring appeal.
I came away with quite a haul from the silent auction and I can finally repay Dan Andriacco for his kind words. I also offered my toast to Sir Arthur Conan Doyle and I reproduce it here:
I would like to propose a toast to Dr. Watson's agent, Sir Arthur Conan Doyle, whose name should be familiar to the more knowledgeable among you. He is a largely uncredited figure to the general public and among Sherlockians is not always held in the highest regard.

We all know his disastrous advice to Watson (and thus to Holmes) that led to what we know as the Great Hiatus. The less said about that sorry affair, the better.

But recent scholarship has suggested that Sir Arthur deserves much more credit than has been his due to date. Many people now believe he even suggested some of the cases that Holmes later investigated. And we cannot deny that Sir Arthur's representation of Watson catapulted an obscure doctor into one of the most recognizable names in literature. I'm speaking of Watson here, of couse. By coincidence, Sir Arthur began life as a doctor.

And in praise of the man, we shouldn't forget that Sir Arthur, who was knighted for his pamphlet about the Boer War, had some fame as an author himself, mainly of historical fiction.

On the other side of the ledger, there are some who suggest it was Sir Arthur who prevented us from learning of some of the cases only suggested in the Canon, believing them to be unmarketable. It's rumored he told Watson: "A giant rat of Sumatra. Who'd ever believe such a story?" And his efforts to quash the publication of The Cardboard Box briefly led to a rift between client and agent.

And some believe Sir Arthur even appropriated some of Holmes' adventures for his own purposes. It was undoubtedly Sir Arthur who suggested to Holmes that during the Great Hiatus he go to the Amazon under the guise of the renowned hunter Lord John Roxton … and then published the narrative himself as The Lost World. It's a great tribute to Watson that he did not hold a grudge for this, even going so far as to create the ludicrous story of Holmes' adventures in Tibet! Oh, sorry, I said I wouldn't mention the hiatus.

Well, we'll forgive Sir Arthur his trespasses and instead thank him for the success he brought Watson. To Sir Arthur Conan Doyle, the agent.
The next meeting of the Outpatients of DWNP will be Sunday Feb. 3 at Pints Pub in Denver and the subject of our discussion and quiz will be The Stockbroker's Clerk.