Sense and Sensibility The Musical review
Perhaps the worst person to review Sense and Sensibility The Musical is a Janeite. It's a little hard to concentrate on the music and performances when you're constantly asking, "Where's Margaret?" and "Where's Lady Middleton?" and "Where's Mrs. Palmer?" and, most importantly, "Where's Chapter Two?"
If you let these considerations own you, then you won't enjoy what is really quite a funny and at its heart faithful musical suggested by Jane Austen's Sense and Sensibility. The musical, which premiered April 11 at The Stage Theatre in the Denver Center for the Performing Arts, is well acted, well sung and is staged to a nicety. It's an incredibly tight performance in two acts with, by my count, 36 songs (although that includes some reprises and introductory music). There are 16 players, four trap doors and one very hard-working hill.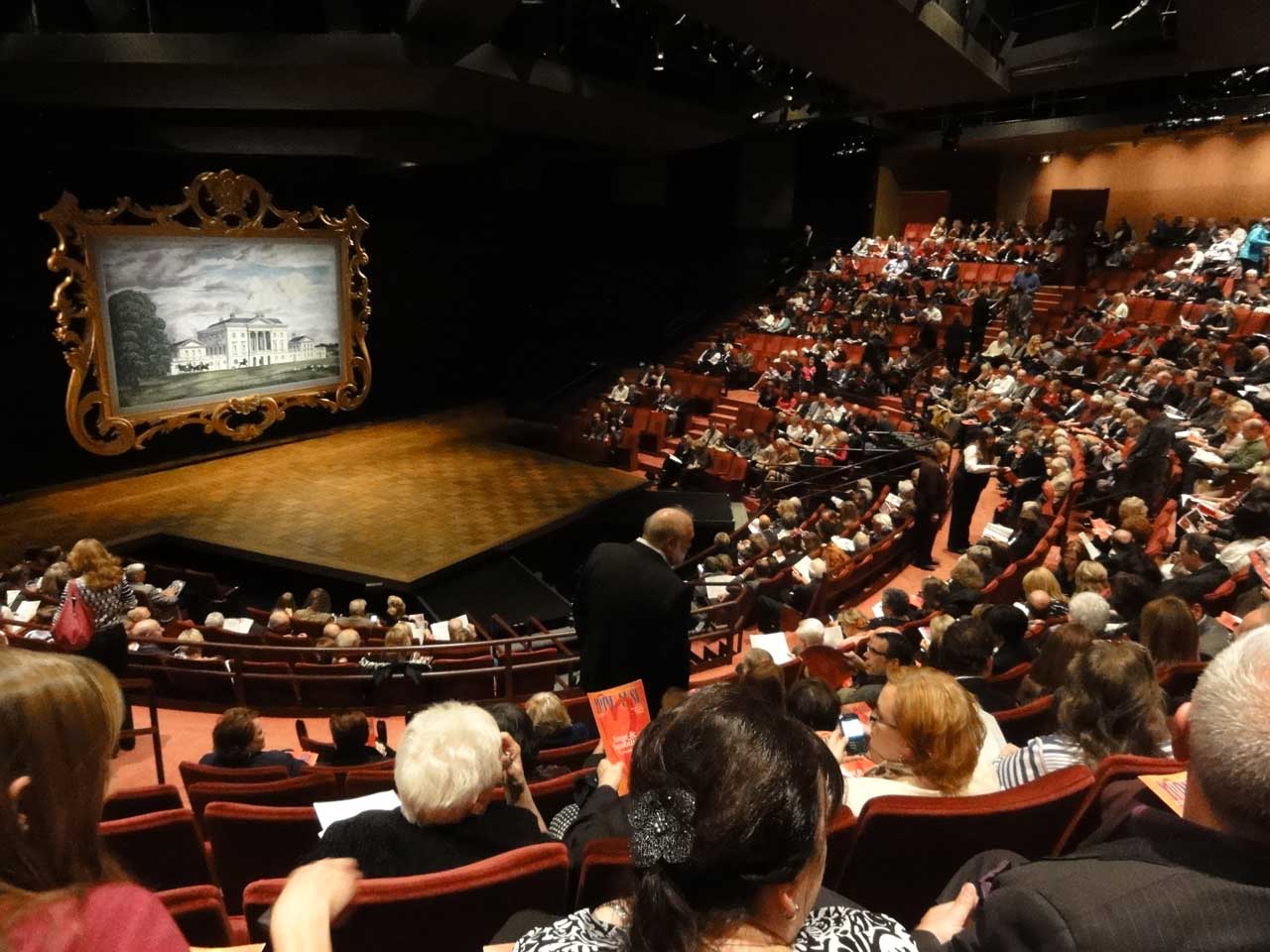 Director Marcia Milgrom Dodge chose a minimalist set design, appropriate to the 3/4 thrust stage, which had to be specially adapted to accommodate the four trap doors. Settings are usually indicated by an enormous framed painting showing Norland or London. Smaller set pieces (windows, doors, etc.) are brought out on a track in the stage floor. Furniture and actors are delivered up and taken away through the traps doors and in some scenes all four doors are operating, requiring actors to have their timing down to a nicety. I saw the actor playing Willoughby (Jeremiah James) step onto a trap door just as it came flush to the stage (there was a luckily not too serious accident in the week prior to the April 11 premiere involving a trap door).
The musical is quite funny, far funnier than the source material in fact. Austen's humor is as dry as the dead leaves Marianne (Mary Michael Patterson) finds so fascinating, while the musical, by emphasizing the roles of Sir John (Ed Dixon) and Mrs. Jennings (Ruth Gottschall), is much broader. There's not much left in the musical of Austen's language sadly, and nowhere is this more keenly felt than the omission of Chapter Two, where Fanny Dashwood (Liz Pearce) convinces her husband John (Andrew Kober) that it would be a positive kindness not to give anything to his stepmother and stepsisters after the death of his father. I've always thought it would make a great Gilbert and Sullivan back-and-forth song.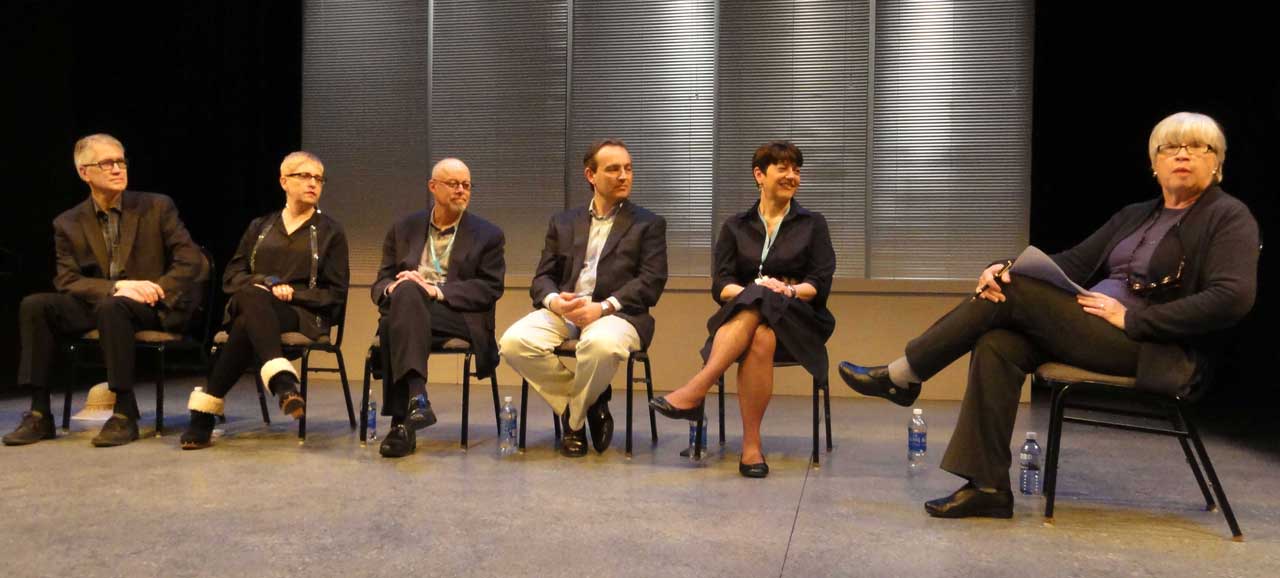 In a roundtable discussion Saturday, at the Austen at Altitude conference, writer Jeffrey Haddow and composer Neal Hampton looked quite pained when they admitted they'd labored mightily to include such a "negotiation song." One can understand the difficulty of introducing such an intricate piece of dialog so early in the musical, which opens with the minister and pallbearers laying Henry Dashwood to rest in one of the trap doors. As soon as his coffin clears the stage, the mourners cast off their funeral garb and sing "In Society," which is reprised many times throughout the performance (perhaps too often). It would be difficult to add the back-and-forth negotiation song, but such a song would be quite fun to recall as you're leaving the theater.
And that, for me, is my only complaint. There are no ear worms in this production. You might recall "In Society," because it's repeated so many times, and Lucy Steele's "With Me Beside You" and Edward and Elinor's "A Quiet Life," also repeated. The production is full of very, very good songs, but no breakouts like "Hello" from The Book of Mormon or the incredible "Where Did We Go Right?" from The Producers. That complaint is unfair, however. Basing a musical on an Austen novel must be akin to balancing on a knife edge. Austen is subtle; musicals are not.
(Note: Admittedly I'm not the best person to review a musical. I have an uneducated ear and several people have said some songs take time to appreciate. Unfortunately there is no cast album yet, although some of the songs are available at the website, recorded at the 2011 read through.)
Part of the problem might be the sheer number of songs in the production, which leaves little time to include much of Austen's actual words. In fact, there are probably more words of William Cowper than Austen, because Colonel Brandon (Robert Petkoff) reads from Cowper to Marianne ("A Second Chance"). In fact the production moves so fast that the Dashwoods are at Barton Cottage by the third scene, giving Edward Ferrars (Nick Verina) little time to make an impression on Elinor (or the audience). I think the production also would have benefited from fewer appearances from what writer Haddow called "the Regency twitter," but it's understandable that the chorus should be rewarded.
Colonel Brandon has several great performances, including "Don't Try to Change Her" and "I Once Knew a Girl," both reflections on the various Elizas in his life and his most recent Eliza surrogate, Marianne. This is definitely a pro-Brandon production; Willoughby never gets a solo.
The musical, of course, includes the duel that is only obliquely referenced in the novel, when Brandon says to Elinor: "We met by appointment, he [Willoughby] to defend, I to punish his conduct. We returned unwounded, and the meeting, therefore, never got abroad." Unlike the Andrew Davies, adaptation, however, the principals choose pistols over swords.
There are two fantasy elements in the musical (that is, apart from the fantasy of people breaking out into song). In the first act, soldiers march on stage as Mrs. Jennings and Sir John try to convince Colonel Brandon what he must do to woo Marianne—"Forward, Ever Forward." In the second act, there are "unstatuary" that are also a crowd pleaser. I almost wish a third bit of fantasy—Fanny having a nightmare and the Regency chorus popping out from under her bed—had not been cut. I'm now imagining the scene in my head and it's quite delightful.
Now if your head is awhirl by these liberties, remember you have to cut musicals a lot more slack than movies. In a musical, it makes sense to reduce the cast, move forward the reveal of Edward's engagement forward and even have Fanny Dashwood give the Dashwood women an ultimatum to leave Norland, just to move the show along. It's also quite understandable to emphasize Sir John and Mrs. Jennings, who steal the show, although I think the production is so lean it fails to mention the relationship between Sir John and Mrs. Jennings. A non-Janeite would probably wonder whether the older than written Sir John has a mistress in Mrs. Jennings.
Twice Mrs. Jenning breaks into her "Most Excellent News" song as she constantly gets the wrong end of the stick, anticipating various engagements between Marianne and Willoughby and Elinor and Colonel Brandon. Her quick change routine toward the beginning of Act Two also gets a round of applause.
Despite my complaint that there aren't any ear worms from this production, I do heartily recommend it, even if you are a Janeite. The choreography of the actors as they negotiate the trap doors is a wonder. The staging and timing are excellent, although Act Two, Scene 9 seems a little awkward, as Edward sings "I'll Believe Anything" while Colonel Brandon carries an ailing Marianne down the stairs, attended by Mrs. Jennings and Elinor. His only solo gets upstaged by all the business going on behind him.
The humor is appropriate for a musical and one can forgive Sir John, Mrs. Jennings and even Mrs. Ferrars stealing the show. The humor of "Awkard"—when Edward comes face to face with Elinor and Lucy—is also nicely done, as are the costumes and the stagecraft of the hill behind Barton Cottage (it moves around on its own). And now that I've listened to a few of the songs from the website, they're starting to stick. I certainly hope for the sake of Janeites around the world this production goes on to conquer New York and London.
Stephanie Rothenberg plays Elinor and Stacie Bono plays Lucy Steele. Joanna Glushak plays Mrs. Henry Dashwood (as well as Mrs. Ferrars).
The production runs through May 26. The Stage Theatre seats 750 and with stadium seating, there are no bad seats.