#amreading #SherlockHolmes, The Unauthorized #Biography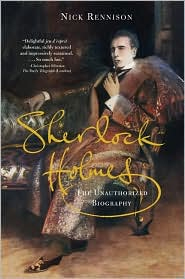 One of the advantages of having ignored the world of Sherlock Holmes for so long is that I can be surprised at what had been written while my attention was lost.
Yet again my husband surprised me with a book (this time bought at The Hermitage Book Shop in Denver), Nick Rennison's Sherlock Holmes: The Unauthorized Biography, published in 2007.
From the publisher:
Rennison creates an in-depth biography of the world's most famous detective that will intrigue Sherlockians and non-Sherlockians alike. Effortlessly melding genuine Victorian history with episodes from Doyle's original stories, the author adopts the popular conceit that Holmes and Watson actually existed, and uses the few clues from the canon to reconstruct the sleuth's ancestry and upbringing. While some of his conclusions will engender controversy among buffs (such as his assessment that Holmes and his brother, Mycroft, set up Professor Moriarty for the fatal encounter at Reichenbach), Rennison makes a logical case for his assertions. He falls a little short in explaining Holmes's devotion of time and resources to espionage rather than deduction, but overall his attempt ranks with previous similar speculations by Michael Harrison and William S. Baring-Gould.
It's on my to-be-read pile and I'll review it at some later date. A New York Times review found it interesting but thought it tried too hard to insert Holmes Zelig-like into world events. Negative Amazon reviews found it dull, and it might be that it's a book that's most likely to appeal to hard-core Sherlockians. Fortunately that's what I think I'm becoming.