Elizabeth composer/artist Chris Williams cheats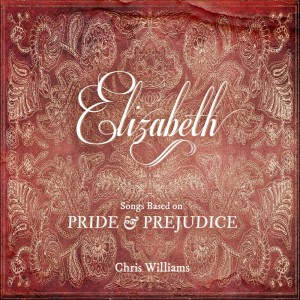 Don't ever play twitter poker with Chris Williams, author, composer and vocalist of the album Elizabeth: Songs Based on Pride & Prejudice. He cheats.
If you're not familiar with twitter poker, here are the rules (which admittedly I've mostly made up): you follow someone or retweet someone's tweet, then when the other person returns the favor, you have to say something nice about that person. I've made some good online friends this way. If you play for higher stakes, you add a link to the other person's website or where to buy their book or, in this case, album. Everyone wins and the game should end before any money is involved.
But Chris cheated by declaring that he'd bought my book: kind of like going straight to the triple-dog-dare. My only way to respond was by asking him if he'd like to engage in a question and answer about his album, to which he has graciously agreed.
It sounds like you've known Jane Austen for some time. When were you introduced?
I discovered my passion for literature and poetry when I was in high school. Earlier, when I was a child there was always poetry around; my father would read me Robert Louis Stevenson and my mother would take me to see Shakespeare plays. But my high school literature class is when my heart first fell. As for Jane in particular, I had always admired her work, but never delved as deeply as I have these past few years. My re-introduction to Jane really happened at the same time as I felt compelled to write music about Pride and Prejudice (see next response).
What was the "A ha!" moment when you realized you should write an album based on Pride and Prejudice?
About three years ago my grandmother was placed on hospice care. I had been performing jazz standards for many years and when I would get off work from a gig, I had the honor of being beside her bed during the "late shift" – midnight to 6am or so. One night, during these early morning hours I watched the 2005 Pride and Prejudice, and I became lost forever. The next night I watched it again, this time with book in hand. I began writing out my favorite quotes and began to explore putting them to melody. My grandmother passed away three months later. It was such a precious time to be working every night, inspired, by her side.
Why do you think this story written almost two hundred years ago still has the power to inspire so many creative endeavors such as yours?
What strikes me most about the book is that we all know people in our own lives that are so much like the characters. Jane Austen describes human nature so perfectly; these are settings and interactions that we are quite familiar with. Yes, the time and era was different, but we all have perhaps known or longed for the feeling of love at first sight that Jane Bennet experiences. We know the feeling of personal insult that Elizabeth feels. We know the feeling of embarrassment prompted by awkward family interactions in public settings. We know people who name-drop as much as Mr. Collins does. We know privileged people who come across as seeming superior to everyone else. Such situations continue to permeate our cultural contexts. I also adore Shakespeare—plays like Hamlet and MacBeth have similar, timeless insights into human nature. However, those types of "should I kill the king to avenge my father" situations are not as readily found in our lives as are the trials of the heart or social spheres represented in P&P. All of us want to find love, and all of us have had to take a second look at someone who we are attracted to. We are all influenced by money whether we wish it or not. We all desire the kind of happiness that the beloved characters in Pride and Prejudice desire.
The next two questions are related and your answer to one might be the answer to the other:
Obviously you didn't set out to tell the whole story of Pride and Prejudice. How did you decide on just these nine songs? And
My only criticism of the album is that I want more. And I'd really like a song revolving around the first, bad proposal. My guess, however, is that you consciously decided not to write the song based on plot points. Is that accurate?
What great questions. This was an extremely challenging aspect of the CD that evolved tremendously before the album was completed. My original idea was to express the primary points of the story in music—similar to some of my favorite musicals or Disney movies—when, after we have witnessed the scene, the character elaborates on the emotion of the moment by singing a song. I realized early on that it would be quite a grand task to create songs for every turning point of the book. I needed to focus my endeavor more. I decided to concentrate on songs from the male point of view as this was often how I viewed the text and since I would be primarily performing them. As the process became more refined, I had to narrow down to the 9 songs contained on the album due to production constraints of time and budget, but I actually did write several more and have musical sketches for at least 12 others.
It was a challenge to simplify things—I had to make a conscious decision to try not to feel the burden of telling all the key points of the narrative. Thus I worked instead to emphasize more of an emotional response to the characters within the plot.
The title song "Elizabeth" is actually based on the first bad proposal. Darcy has just laid all of his heart before her. He needs to grow, yes, but he doesn't realize that yet. He was so confident of being accepted that he becomes empty and destroyed emotionally after her rejection. I wanted to write a song based on that intense feeling of his world crashing down around him, the shock of rejection. We understand from his proposal the time he has spent overcoming the difficulties he sees in marrying her; we get a sense of how troubling this has been to him even though it comes across to Lizzy as insensitive and unromantic. Asking for her hand in marriage is not simple for him, he has decided to ignore the way his family will respond and sacrifice it because he loves her. And in his commitment to honesty and integrity, he feels the need to share this with her. So when she rejects him, what does he have left? This is the moment I attempt to capture in my song "Elizabeth."
Again, the next two questions are related and your answer to one might be the answer to the other:
I think the album could almost stand on its own without mentioning the Jane Austen connection. Was that your cunning plan?
I'm so glad you asked this!! That was indeed my cunning plan. For years I have sung jazz and the American song book—so many of my favorite songs were written for musicals around a story line. Take for example "Summertime" by George and Ira Gershwin. Though written as the lullaby in Porgy and Bess, the song can stand completely on it's own. When looked at in the context of the story, the lyrics take on new insight and beauty, but it's not necessary to be familiar with the story to love the song. My hope is that the songs I have written based on Pride and Prejudice will resonate with people who might not be familiar with Jane's work, but people who know and love the book will enjoy the quotations and themes from the novel that drive each song.
It takes a lot of courage to write an album that's tied to Jane Austen—even if Janeites are passionate, ultimately it's a small group to market to. So was this album an indulgence to your inner Janeite?
Absolutely! I have been so obsessed with Jane for the last several years, attending reading groups, Jane Austen teas, and Regency era dances. I love the dances in particular: they have given me such insight into why Bingley loves dances so much and why Mr. Darcy is reticent to participate. The individual dances can be quite complicated if you aren't familiar with them, and yet are so much fun!! My hope is that fellow Janeites will get a sense of the hands-on research that went into the album from an appreciation of the ballroom to the direct quotations that are in each song. My goal is not only to appeal to the die-hard Jane fans, but also to help invite people who are unfamiliar with Austen to enjoy the story.
It sounds like you have a strong jazz background and the album certainly made me think of Sting and Ten Summoner's Tales (especially the Wickham song). What are your musical influences and specifically what were the influences for this album?
Haha that might be the best compliment I have ever received! Yes, Sting's Ten Summoners album was one of the most influential albums of my entire life. As far as jazz, most of my career over the last 17 years has been singing jazz standards. My heroes include Louis Armstrong, Nat Cole, Dizzy Gillespie, Sarah Vaughn, Lou Rawls and others. Yet for this album I focused on many of the more modern songwriters that I admire, such as the Beatles, Sting, Coldplay, Radiohead, James Taylor, and Paul Simon. I also spent several months studying cello and string music, in particular transcribing the Bach cello suites, because I wanted to incorporate those instruments in the album.
The debut concert of the Elizabeth album was my first chance to hear the cello parts I wrote, actually performed on the instrument—it was one of the most gratifying moments of my life.
What can we expect next from you?
I currently have two other albums of music I am in the process of completing: an album of jazz standards and an album of original funk/R&B/ dance music. I love immersing myself in so many different styles of music that I'm always looking for opportunities to write and perform as much as possible.
But who knows: I also love the world of Jane Austen so dearly that I may someday write songs based on Sense and Sensibility.
What's your wildest hope for the album? Or are you too level headed to indulge in such fantasies and would be happy with an NPR Tiny Desk Concert?
I hadn't thought of that—NPR would be amazing. My wildest hope for the album has been the chance to perform it with a full orchestra, then have the budget and time to finish the rest of the songs I have planned around the story, and perhaps someday to create a full Broadway type show with these songs.
Will you be attending the AGM?
I wouldn't miss it for the world.
Thank you again for asking me to do this. It has been so much fun to get a chance to explain some of the things that went into writing the album. All in all, it was more than two years in the making and it means so much to me that you have enjoyed it.
---
You can find out more about Chris in a variety of ways, including his facebook page, his twitter feed and his YouTube page. And you can also buy his album from Amazon.