What I'm reading or have read
It's been a while since my last post and in that time, I've collected quite a few books to put on my reading list and thought I should share them (so I can show off how smart I am) and also so I can thank those people who have given me the books. So in no particular order: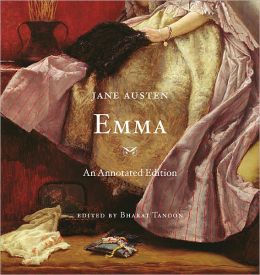 Jane Austen Emma: An Annotated Edition, edited by Bharat Tandon
I'm still ploughing my way through this Emma and have to say that yet again, I find reading annotated editions tedious to the point of being unbearable, and yet occasionally rewarding enough to make it worthwhile. I'm not enough of an Austen scholar to evaluate the accuracy of Tandon's annotations and since my usual habit is to read a chapter before sleep, I can never remember whether something struck a false chord. Nevertheless, I am dedicated to finishing this chest-crushing tome, so that I can admire it on my shelves. Bought for me by my husband, Jim.
I often think that annotated editions would be best read on a tablet. It would be nice if I could choose the level of tediousness, like choosing the level of gore when playing Tomb Raider. For instance, in this line talking about Emma's neighbors, the Coles (newly rich from trade)—"With their wealth, their views11 increased…"—I see the annotation: "Social ambitions." I think I would have understood that from context, and yet I had to glance over to see what the annotation was about.
Something I fantasized about in my Jane, Actually blog, was the idea of an edition of Pride and Prejudice annotated by Jane herself. Instead of endless speculation whether a word was chosen because of Austen's fondness for Frances Burney, we would hear the definitive word from the author.
Among the Janeites by Deborah Yaffe
This book is such a delight for me because I sat beside Deborah Yaffe several times at the 2011 JASNA AGM and heard about the book. I even got mentioned. It's an affectionate look at the people who make up the baffling world of Jane Austen fandom, scholarship and fandom/scholarship. It makes one realize the many paths that lead to Austen and the extent to which people draw inspiration from works written so long ago. It very much captures the feeling I first had upon arriving in Fort Worth and the instant communion that I experienced with fellow Janeites.
When I met Ms. Yaffe again at the 2013 AGM, I also learned that she shared a love of Sherlock Holmes and P.G. Wodehouse, proving yet again she's a person of superior accomplishments.
The Invention of Murder: How the Victorians Revelled in Death and Detection and Created Modern Crime, by Judith Flanders
It's strange how publishing works, because this book, given to me by my friend Mike, arrives almost at the same time as Lucy Worsley's A Very British Murder. And both books appear to follow the same path.
Flanders' book starts with the Radcliffe Highway murders in 1811 (a crime Jane Austen would have been very familiar with) and more or less ends with Jack the Ripper. It's very well written, exhaustively researched and incredibly difficult to read because it's 466 pages long with only nine chapters. It's a pretty sad story as well, with many, many, many miscarriages of justice. And yet it does show progress as we read about the development of modern policing, especially in the case of the Mannings in 1849. It's a surprise to learn how workmanlike the Metropolitan Police detective force had become, when previously it had to work in secrecy (the original police could prevent crime but was not allowed to investigate it). Also it's fun to see how technologies competed: the railroad allowed a suspect to flee to Scotland, but not before the telegraph could alert authorities to arrest her upon arrival.
Flander's book also follows the path these spectacular murders took in the public imagination, from the earliest newspaper reports, to printed broadsides, staged melodramas, marionette shows and street balladeers. Flanders, incidentally, is interviewed extensively in Secrets of Scotland Yard, which was shown on PBS.
A great companion to this book is Lucy Worsley's A Very British Murder, which seems to follow an almost identical same path. It's so much fun to watch Lucy being silly. There is a companion book to Worsley's series, of course, but for the moment I'm satisfied with Flanders' book. I won't be surprised if my husband buys Worsley's book, however, because he's as much of a Lucy fan as I am.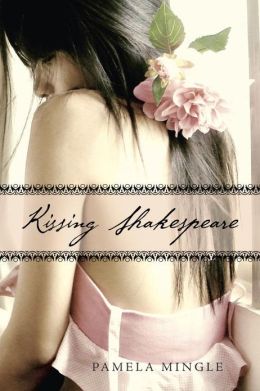 Kissing Shakespeare by Pam Mingle
I'd actually read Pam Mingle's book quite some time ago, but hadn't reviewed it because it didn't quite fit in with any of my blogs. However, because she's a fellow Janeite, I finally decided this blog would be appropriate and it was way past time I praised it.
The premise is simple: A young woman (really still a girl), appearing in a production of The Taming of the Shrew, is kidnapped by a fellow actor and taken back to Elizabethan England by magical means. The complications are not so simple: To prevent Shakespeare from becoming a priest (his family was Catholic at a parlous time), her abductor wants her to seduce the future playwright and thus ensure the world will not be deprived of Romeo and Juliet and Macbeth and countless quotes that authors like me borrow to prove they're not ignorant clots.
This is a young adult novel and knowing that, I was forever worried how far it might go, especially considering what I think is an unfortunate cover. I was also constantly trying to fit it into some science fiction context. Finally I just decided to read it without my preconceptions and found it very enjoyable. Despite the romance and the humor, I think it's a sobering look at the persecution that occurred in the Tudor reign. And the ending is absolutely perfect, because author Mingle doesn't take the easy way out. Highly recommended and I look forward to reading her next book, The Pursuit of Mary Bennet.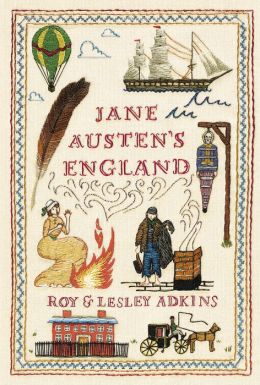 Jane Austen's England, by Roy and Lesley Adkins
This book is a dual present, from both my husband and my high school friend Mike. My husband Jim gave it to me (he picked it up for cheap as a review copy sent to The Denver Post), but began reading it before I could start. Then Mike's copy arrived and eventually we were both reading it.
It is masterfully and deviously written. It has the same fault as Flanders' book mentioned above: just 12 chapters for a 343-page book and it's almost impossible to stop reading. One topic just flows into another and it's all fascinating and annoyingly almost impossible to recall. It begs to be re-read. Although Jane Austen's life and novels are thoroughly integrated into the book, anyone interested in English history from 1775 to 1817 will find this book amazing.
Having two copies, by the way, means it can be included among Jim's histories and my Jane Austen collection.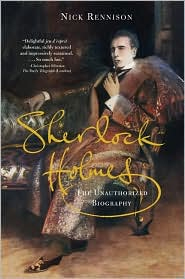 Sherlock Holmes, the Unauthorized Biography by Nick Rennison
I was going to praise this book as well, only to realize, based on my bookmark, that I haven't finished it (I'm about halfway through). It was, however, quite fun to read author Rennison's convoluted back story of Holmes based on the nuggets of information Conan Doyle has scattered throughout the 56 short stories and four novels. At least this post has reminded me to return to reading it (I think I shelved it when company was coming over) and I promise a real review someday.
Bought by my husband from Hermitage Books in Denver.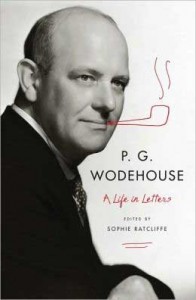 P.G. Wodehouse, A Life in Letters, edited by Sophie Ratcliffe
I'm well aware that I haven't finished this collection of Wodehouse letters, but it's a treat best sampled in small bites. I'm not normally fond of reading author letters, but Wodehouse did his best to be amusing even when writing a short note to his beloved stepdaughter Leonora (or Snorkles) or when cheering up fellow author Bill Townend: in a letter dated Feb. 12, 1927, he tells Townend, "I have also written three short stories since I got back from Hunstanton on Jan. 8." Let me point out that you do not cheer up a fellow writer by saying how much you have written. It's bad form.
The book is quite revealing about Wodehouse's character. He doesn't come off as the wooly-headed author he pretends to be, always saying that his wife is the real brains of the couple. Instead Wodehouse obviously knows the value of money and is quite shrewd. I'm simply dreading the war and Plum's miscalculations. I also love his name dropping: "Tonight we are all going to the opening of Oscar Hammerstein's play Mary Jane McKane. … Mrs. Hammerstein is coming to lunch today." And, "First [Guy] Bolton and I settled down and wrote a musical in two weeks for ["Flo"] Ziegfeld." Of course to him, these were just the people he worked with. Highly recommended, even if I haven't finished it. Oh, another advance reading copy procured by my husband.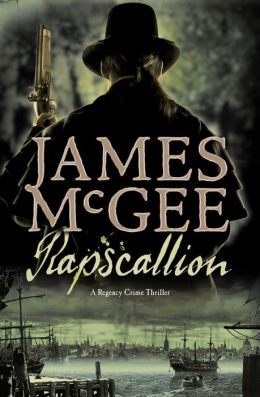 Rapscallion, by James McGee
Technically, I haven't started reading this yet another advance reading copy my husband bought for me. Here's the description:
Matthew Hawkwood, ex-soldier turned Bow Street Runner, goes undercover to hunt down smugglers and traitors at the height of the Napoleonic Wars in this thrilling follow-up to Ratcatcher.For a French prisoner of war, there is only one fate worse than the gallows: the hulks. Former man-o'-wars, now converted to prison ships, their fearsome reputation guarantees a sentence served in the most dreadful conditions. Few survive. Escape, it's said, is impossible.Yet reports persist of a sinister smuggling operation within this brutal world – and the Royal Navy is worried enough to send two of its officers to investigate.But when they disappear without trace, the Navy turns in desperation to Bow Street for help. It's time to send in a man as dangerous as the prey. It's time to send in Hawkwood…
It looks quite silly and I'm looking forward to it.