Dan Andriacco review of My Particular Friend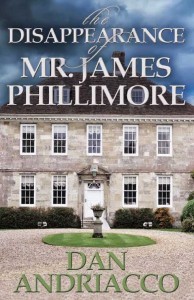 Thanks, Dan Andriacco, for your kind review of My Particular Friend at your Baker Street Beat blog. Dan, as many know, is the author of several Holmes-inspired mysteries, chiefly his Sebastian McCabe–Jeff Cody series, his most recent being The Disappearance of Mr. James Phillimore.
[My Particular Friend] is a sublime literary cocktail made up of about three parts Arthur Conan Doyle, two parts Jane Austen, and one part P.G. Wodehouse
In his review of MPF, Dan says "Did you ever pick up a book that has been on your 'to-read' pile for ages and think, 'Why did I wait so long?'" Well mea culpa, because I enjoyed his No Police Like Holmes and I realize I hadn't written a review, which shall be repaired in short order. I also have his Holmes Sweet Holmes and his latest on my TBR pile.
So again, Dan, thanks for the review and the pleasure you've already brought me in the persons of McCabe and Cody.