Among the Janeite's author coming to Denver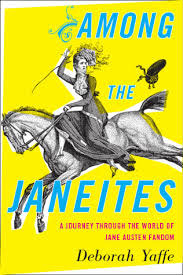 Deborah Yaffe, author of Among the Janeites, the definitive examination of the world of Jane Austen fandom, will be speaking to the Denver-Boulder JASNA (Jane Austen Society of North America) region Feb. 9.
Ms. Yaffe, also author of Other People's Children: The Battle for Justice and Equality in New Jersey's Schools, has been a member of JASNA since the age of sixteen and lives in New Jersey, although she has roots in Colorado.
Her book, as the tone of her title suggests, is almost an anthropological study. She explores the lives of people (and not just women) who have been enriched by their relationship with Jane Austen—and several people some would avoid, like Baronda Bradley who actually travels to JASNA annual general meeting in Regency costume (and whose appearance is always anticipated). Of course I'd be happy to sit next to Ms. Bradley on an airplane, but then I secretly wish that I too could wear a spencer, bonnet and fichu (a wish I share with Ms. Yaffe). Reading Among the Janeites, you realize that a relationship with Jane Austen can be transformative; it certainly was for me, as it was for others who decided to write their own Jane Austen-inspired story.
Ms. Yaffe will be speaking at our regularly scheduled meeting, from 1:30–3 p.m., at the Standley Lake Library in Arvada, on Feb. 9. For more information about our Denver-Boulder JASNA region, please visit our website or facebook page.