Agatha Christie's The Mousetrap at The Arvada Center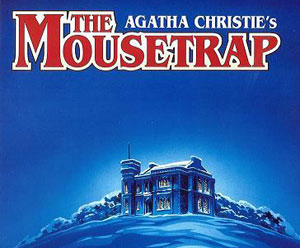 It doesn't require an overabundance of the little gray cells to know that Agatha Christie's The Mousetrap is something not to be missed. This classic mystery has been playing in London for more than 60 years and in England, that's usually the only way to see it, at St. Martin's Theatre in the West End. But it occasionally gets staged in the U.S. and it's coming to The Arvada Center from Jan. 24 to Feb. 23.
It's a classic Christie plot, full of suspects trapped in a snowed-in guesthouse and one of them is a murderer. The story has a classic twist ending that the audience has been encouraged not to divulge to anyone. It's never been made into a movie—in fact Dame Agatha stipulated it can't be filmed until the West End production comes to an end—and even the short story on which it's based has never been printed in the U.K. (according to the wikipedia entry).
If you're a Sherlockian, a Wodehousean, a Janeite or anyone who loves a classic mystery, I highly recommend seeing The MouseTrap.