Wodehouse Trope-ical Bingo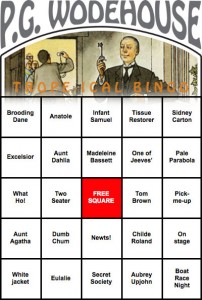 Wodehouse Trope-ical Bingo is now available to play here. If you're a fan of Wodehouse (and if not, you should be), you wonder how to while away the hours when not actually reading Wodehouse. Wonder no more and just generate a bingo card with the Master's familiar tropes. Whether you want to play the Wodehouse drinking game or the more sober minded discussion card or the group oriented traditional version, use the bingo card generator to print as many cards as you need. It's free and fun for the whole family.
How to play instructions can be found here and the master list of tropes is available here.